The Southeast Court Appointed Special Advocates (CASA) receives grant award from Dakota Hospital Foundation
The Southeast Court Appointed Special Advocates (CASA) receives grant award from Dakota Hospital Foundation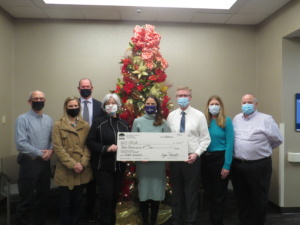 The Court Appointed Special Advocates (CASA) was recently awarded a $2,000 grant from Dakota Hospital Foundation (DHF). The grant will fund the recruiting and training of four new volunteers in Clay County, to be assigned as advocates for abused or neglected children.
"We are always in need of CASA volunteers so not to leave any children on a waiting list.  This grant will fund training for new volunteers to meet the needs as they arise.  We serve five counties: Clay, Union, Yankton, Turner and Bon Homme.  We are currently serving 20 – 25 children continuously. We are grateful for this grant award." Sherri Rodgers-Conti, CASA Program Director.
"Dakota Hospital Foundation is proud to partner with the Court Appointed Special Advocates to support community health and wellness. Our community's children and their future to live a safe quality of life is something the foundation feels passionate about," said John Prescott, president, Dakota Hospital Foundation.
Dakota Hospital Foundation held its fall open grant period from October 1 – 31, 2020.  Four community grants were awarded a total of $10,675.  The next open grant period for DHF will be April 1 – 30, 2021.  Learn more at www.dakotahospitalfoundation.org.
About Dakota Hospital Foundation
Since its beginning in 1930, Dakota Hospital Foundation has fulfilled a mission dedicated to community health and wellness.  The health care 'pioneers' who established Dakota Hospital Foundation (DHF) also nurtured a tradition of community health service leadership represented by today's Foundation members.
Pictured (L-R): Andy Howe, DHF vice-president, Sherri Rodgers-Conti, CASA Program Director, Paul Preister, DHF board member, Katie Kassin, Southeast CASA board member, Crystal Gemar CASA board member, John Prescott, DHF president, Lisa Ketcham, DHF board member, Tim Tracy, Senior Director, Sanford Vermillion