The Vermillion Fire and EMS Department receives grant award from Dakota Hospital Foundation
The Vermillion Fire and EMS Department receives grant award from Dakota Hospital Foundation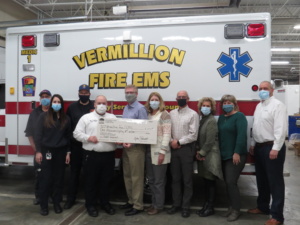 The Vermillion Fire and EMS Department was recently awarded a $1,050 grant from Dakota Hospital Foundation (DHF). The grant will fund trauma equipment and prehospital trauma life support training for fifteen emergency medical technicians.
"The direction of medicine for the past decade has evolved to evidence based. Medical procedures, techniques and care guidelines are now being developed based on studies that have positive outcomes for patients. To maintain this cutting edge, today, with a partnership with the Dakota Hospital Foundation, we can ensure our prehospital staff receive the most updated training and equipment to better serve our community and its guests." - Matthew Callahan Chief of the Department.
"Dakota Hospital Foundation is proud to partner with the Vermillion Fire and EMS to support community health and wellness.  We are appreciative of their service to our Vermillion community. With this DHF grant funding, they will be able to provide the training needed to support the highest level of prehospital trauma care," said John Prescott, president, Dakota Hospital Foundation.
Dakota Hospital Foundation held its fall open grant period from October 1 – 31, 2020.  Four community grants were awarded a total of $10,675. The next open grant period for DHF will be April 1 – 30, 2021.  Learn more at www.dakotahospitalfoundation.org.
About Dakota Hospital Foundation
Since its beginning in 1930, Dakota Hospital Foundation has fulfilled a mission dedicated to community health and wellness.  The health care 'pioneers' who established Dakota Hospital Foundation (DHF) also nurtured a tradition of community health service leadership represented by today's Foundation members.
Pictured (L-R): Joe Kyte, EMT, Madison Christensen, EMT, Ty Murray, paramedic/firefighter, Matt Callahan, chief of Vermillion Fire/EMS, John Prescott, DHF president, Lisa Ketcham, DHF board member, Andy Howe, DHF vice president, Cindy Benzel, DHF foundation director, Joni Freidel, DHF board member, Tom Overby DHF board member