Habitat for Humanity of Clay and Yankton Counties receives grant award from Dakota Hospital Foundation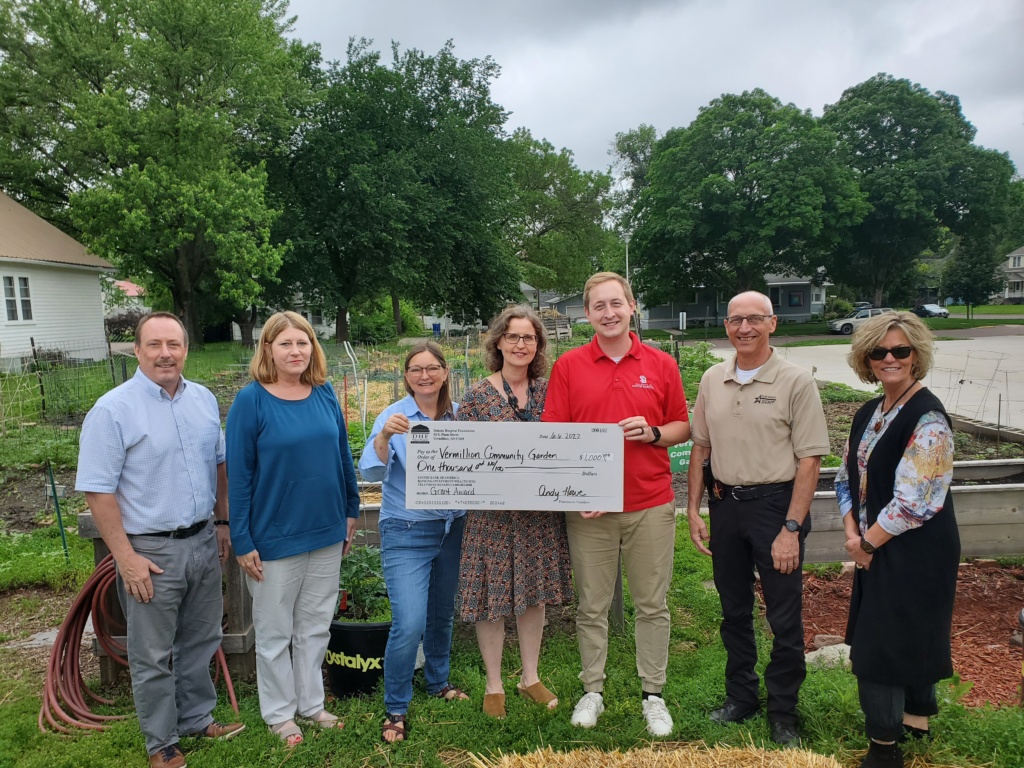 Vermillion Community Garden was recently awarded a $1,000 grant from Dakota Hospital Foundation (DHF).  The grant will help in funding, the installation of a new water line to ensure water is accessible to all areas of the community garden, located by the United Church of Christ.
"The Vermillion Community Garden Executive Board (and VCG gardeners) are delighted to be awarded a grant from the Dakota Hospital Foundation. The impact this grant will make will be felt by the 38 gardeners that spend so much time and devotion in their plots. We plan on getting a water source closer to the garden to make it easier and more accessible for all that choose to garden with us. At this point we have to drag numerous hoses around in order to get the water we need. With this grant we will be working with the UCC and area landowners to create a water source only a few feet from the garden. Each year we try to build and improve the Vermillion Community Garden and this grant from DHF will do just that in the summer of 2022! Thank you for thinking of us and everything you do for the Vermillion community," said Derek Zomer, president, Vermillion Community Garden Executive Board.
"Dakota Hospital Foundation is proud to partner with the Vermillion Community Garden to support community health and wellness. In addition to the water access changes and impact to the gardeners, over 600 pounds of fresh vegetables are donated to the Vermillion Food Pantry every summer," said Andy Howe, president, Dakota Hospital Foundation.
Dakota Hospital Foundation held its spring open grant period from April 1 - 30, 2022.  The next open grant period for DHF will be October 1 - 31, 2022.  Learn more at www.dakotahospitalfoundation.org.
About Dakota Hospital Foundation
Since its beginning in 1930, Dakota Hospital Foundation has fulfilled a mission dedicated to community health and wellness.  The health care 'pioneers' who established Dakota Hospital Foundation (DHF) also nurtured a tradition of community health service leadership represented by today's Foundation members.
Pictured (L-R): Damon Alvey, DHF board member, Lisa Ketcham, DHF board member, Alicia Paulson, Vermillion Community Garden board member, Katharina Wymar, Vermillion Community Garden board member, Derek Zomer, president Vermillion Community Garden, Andy Howe, president DHF board, Cindy Benzel, DHF Director