The Vermillion Veterans of Foreign Wars (VFW) receives grant award from Dakota Hospital Foundation
The Southeast Court Appointed Special Advocates (CASA) receives grant award from Dakota Hospital Foundation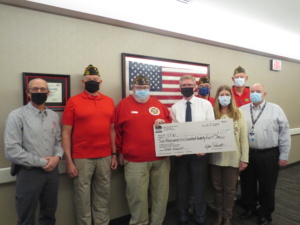 The Vermillion Veterans of Foreign Wars was recently awarded a $2,125 grant from Dakota Hospital Foundation (DHF).  The grant will fund 75 new flags for the Bluff View Cemetery, Avenue of Flags. The flags are raised the Friday of Memorial Day weekend, along the center road of the cemetery and is referred to as the "Avenue of Flags."
"Vermillion VFW Post 3061 sincerely thanks the Dakota Hospital Foundation for its support of Veterans' concerns and for providing funding to improve our Memorial Day Avenue of Flags project which will allow it to continue into the future with the purchase of lighter and more weather resistant flags." Andy Howe, DHF Vice President and VFW Post Quartermaster/Adjutant.
"Dakota Hospital Foundation is proud to partner with the Vermillion Veterans of Foreign Wars to support community health and wellness.  Showing our appreciation and patriotism to our military community and their families is an honor. With this DHF grant funding, they will be able to purchase seventy five new nylon flags, to be displayed Memorial Day weekend," said John Prescott, president, Dakota Hospital Foundation.
Dakota Hospital Foundation held its fall open grant period from October 1 – 31, 2020.  Four community grants were awarded a total of $10,675.  The next open grant period for DHF will be April 1 – 30, 2021.  Learn more at www.dakotahospitalfoundation.org.
About Dakota Hospital Foundation
Since its beginning in 1930, Dakota Hospital Foundation has fulfilled a mission dedicated to community health and wellness.  The health care 'pioneers' who established Dakota Hospital Foundation (DHF) also nurtured a tradition of community health service leadership represented by today's Foundation members.
Pictured (L-R): Andy Howe, DHF Vice President, Art Mabry, VFW member, Jackie Voigt, John Prescott, DHF President, Jim Richardson, VFW member, Lisa Ketcham, DHF board member, Terry Brady, VFW member, Tim Tracy, Senior Director, Sanford Vermillion