The Evan Project, Diaper Bank receives grant award from Dakota Hospital Foundation
The Evan Project, Diaper Bank receives grant award from Dakota Hospital Foundation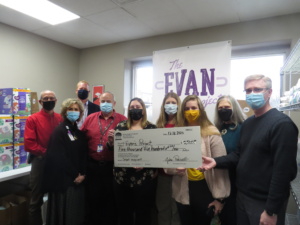 The Evan Project, Diaper Bank was recently awarded a $5,500 grant from Dakota Hospital Foundation (DHF).  The grant will fund a onetime (diaper) purchase, to meet the needs of families in Clay County.
"We're so grateful to the Dakota Hospital Foundation for their support of The Evan Project, and grateful to the talented students who helped us tell our story. Because of so many people working together, babies in our community are going to be happy and healthy for a long time to come," said Catherine Johnson, Community Impact Director.
"Dakota Hospital Foundation is proud to partner with The Evan Project to support community health and wellness.  With this DHF grant funding, they will be able to provide diapers, that are readily available to support the one hundred plus children and local families in need," said John Prescott, president, Dakota Hospital Foundation.
Dakota Hospital Foundation held its fall open grant period from October 1 – 31, 2020.  Four community grants were awarded a total of $10,675.  The next open grant period for DHF will be April 1 – 30, 2021.  Learn more at www.dakotahospitalfoundation.org.
About Dakota Hospital Foundation
Since its beginning in 1930, Dakota Hospital Foundation has fulfilled a mission dedicated to community health and wellness.  The health care 'pioneers' who established Dakota Hospital Foundation (DHF) also nurtured a tradition of community health service leadership represented by today's Foundation members.
Pictured (L-R): Andy Howe, DHF Vice-President, Cindy Benzel, DHF Director, Ken Green, USD Coordinator of Business Writing, Tim Tracy, Senior Director, Sanford Vermillion, Catherine Johnson, Community Impact Director for United Way of Vermillion, Lisa Ketcham, DHF board member, Kailena Anderson, USD student, Linda Kogel, DHF board member, John Prescott, DHF President