SD Shakespeare Festival receives grant award from Dakota Hospital Foundation
SD Shakespeare Festival receives grant award from Dakota Hospital Foundation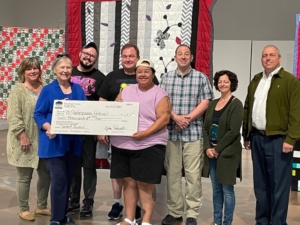 SD Shakespeare Festival was recently awarded a $2,000 grant from Dakota Hospital Foundation (DHF).  The grant will help in funding, production and educational programming for the community.
"The Support of the Dakota Hospital Foundation towards the SD Shakespeare Festival's 2021 season is extremely impactful. We are overjoyed to be able to return to creating and sharing live professional theatre with our communities after such a difficult and challenging year. Now, more than ever, the arts are needed to heal, uplift, and inspire. Support from the DHF helps us make this vision a reality. Thank you," said Chaya Gordon-Bland, Executive Artistic Director.
"Dakota Hospital Foundation is proud to partner with SD Shakespeare Festival to support community health and wellness.  With this DHF grant funding, they will be able to offer the Vermillion Community the chance to engage, experience, and enjoy the art of theatre," said John Prescott, president, Dakota Hospital Foundation.
Dakota Hospital Foundation held its fall open grant period from April 1 – 30, 2021.  Two community grants were awarded a total of $3,600.  The next open grant period for DHF will be October 1 – 31, 2021.  Learn more at www.dakotahospitalfoundation.org.
About Dakota Hospital Foundation
Since its beginning in 1930, Dakota Hospital Foundation has fulfilled a mission dedicated to community health and wellness.  The health care 'pioneers' who established Dakota Hospital Foundation (DHF) also nurtured a tradition of community health service leadership represented by today's Foundation members.
Pictured (L-R): Joni Freidel, DHF board member, Linda Kogel, DHF Past President, Oliver Mayes, Director SD Shakespeare, Joe Stollenwerk, Board Director SD Shakespeare, Shekendra Morgan, Board Director SD Shakespeare, Brian Smallwood, Director of operations and Production SD Shakespeare, Chaya Gordon-Bland, Executive Artistic Director SD Shakespear, Tom Overby, DHF board  member