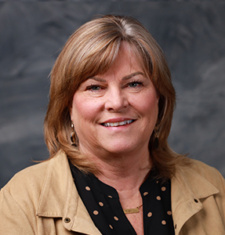 Joni Freidel
Board Member

Joni Freidel is originally from Minnesota, where she graduated from St. James High School and then obtained a baccalaureate degree from Southwest Minnesota State University. It was there she met her husband, Mike, and started a life-long career in higher education. Stops along the way included Augustana University (master's work), Mount Marty College, and since 2005, the University of South Dakota where she serves as Director of Scholarship Administration, a liaison position working with the USD Foundation.
Pay it forward has been the motivation for Joni and her involvement in the Vermillion community. "When asked to serve on the Dakota Hospital Foundation Board, it was an easy decision to say yes! My family and I have been so fortunate to have had the care, expertise and friendship of the Sanford family."
Joni has five children, Kelsey, Jackson, Jerrod, Kylen and Hailey and all of them have attended USD. When she's not spending time with her family or at USD events, she is an avid traveler. Currently, Joni also serves on the boards of the Clay County Historical Society and the Vermillion Area Dance Organization.