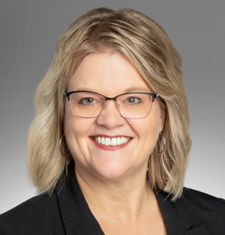 Veronica Schmidt
Senior Director

Veronica Schmidt, a native of South Dakota, has served as the Senior Director of Sanford Vermillion Medical Center since September 2021 overseeing operations for hospital, long term care, and clinic services. Veronica previously served Sanford Vermillion in director roles from 1995-2011. Prior to returning to Vermillion, Veronica served as CEO of Critical Access Hospitals in Western South Dakota and Central Nebraska.
Veronica holds a Bachelors degree in Social Work and Masters degree in Business Administration (MBA) from the University of South Dakota and a Masters degree in Social Work (MSW) from the University of Nebraska-Omaha.
Veronica and her husband, Troy met at USD and have three children, Emme, Maya, & Roman, all of whom were born at Sanford Vermillion Medical Center.
Veronica enjoys reading, fitness, photography, anything with family, and cheering on the Coyotes.