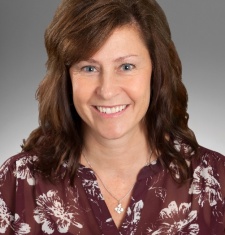 Kelly Herbster
Board Member
Kelly Herbster is from Stillwater, MN.  She graduated from Stillwater High School in 1987. She graduated college from the University of St. Thomas in St. Paul, Minnesota in 1991 with a B.A. in Elementary Ed. and a M.A. in Curriculum & Instruction along with a middle school endorsement in 1995.  She has 28 years of experience as an educator.  She's taught 2nd grade, 6th & 7th grade Language Arts, and 6th grade Math in the White Bear Lake School District in Minnesota prior to coming to Vermillion, as well as coached high school cross country & track.
Kelly was a 4th grade teacher at St. Agnes School in Vermillion for 13 years and is now an adjunct professor in the USD Education Department.  Kelly's husband, David, was the Athletic Director at USD for many years and now works for Sanford as a Lead Community Relations Specialist. They have three daughters:  Morgan (NICU nurse at Sanford Hospital in Sioux Falls), Kasey (senior at the University of Concordia-St. Paul), and Leah (freshman student athlete at Simpson College in Iowa).
In the past, Kelly has been a Girl Scout Leader, Rec & Club Soccer Coach, member of the SD Race for the Cure Committee,  Vice President of the VYSL, Coordinator for Vermillion's Girls on the Run, confirmation teacher, as well as currently serving on the Dakota Hospital Foundation Board.
"Being a part of the Dakota Hospital Foundation Board has allowed me to be involved in our community in a different way.  It is rewarding to be a part of an organization that looks to help make people's medical visits positive experiences and also supports important programs in our community."