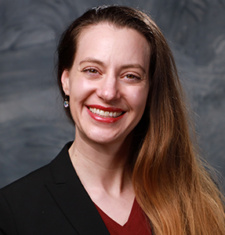 Katherine Price
Vice President
Katherine Price is from Albuquerque, and came to Vermillion in 2012. She earned a bachelor of music degree from the University of New Mexico and a master of music degree from University of Oregon, both in vocal performance. Katherine has sung at contemporary music festivals in New Mexico, California, Oregon, and North and South Dakota, and is continuing to perform periodically here in Vermillion.
Since settling in South Dakota, Katherine has quickly rooted into the community. She is in her second term on the City Council as Alderman of the Central Ward, was part of the planning for the 2016 Earth Days events, and participates in the Vermillion Community Theatre. She loves all the varied activities available here and the town's safe, family-friendly vibe. She is a strong supporter of music and the arts in Vermillion and is always eager to be part of what's happening next!
Katherine is currently a Program Assistant in the office of the Dean of Arts and Sciences at the USD. In her spare time she likes singing and performing, doing yoga, cooking and entertaining, and spending time with her husband Paul Lombardi (Associate Professor in the USD Music Department) and their son Ethan (13-years old). She is happy to be part of the Dakota Hospital Foundation and all the good work they do in the area.
"My role in DHF is the chair of the community engagement committee, which helps plan community events. That has been a really nice committee to serve on, because I enjoy event planning and we have been able to put on some really nice ones here at DHF. Otherwise I just serve on the board. It's been fun being part of the transition over the past few years, as we moved from being owners of the property to seeing Sanford take it over and make great improvements." Price said.
Katherine was able to be part of the Grand Opening of the new hospital a few years ago, and felt honored to be one of the presenters. She also enjoys presenting scholarships at the annual leadership dinner, and says awarding scholarships is one of the the most fulfilling parts of being on the board.