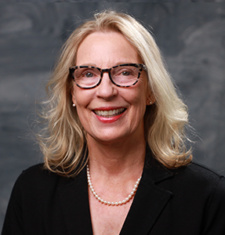 Lana Svien
Board Member
Lana Svien
Lana Svien, born and raised in Willmar, Minnesota, started volunteering in hospitals at the age of 14 years old.  After receiving her baccalaureate degree in physical therapy in 1974 from the University of Wisconsin, she enjoyed providing physical therapy in rural hospitals and nursing homes in western Minnesota.  Subsequently seeking to add to her education, she obtained a master's degree in anatomy from USD in 1983, at which time she worked for the formerly named Dakota Hospital on an as needed basis.  Lana has a soft spot for the hospital in Vermillion where both her children were born in 1982 and 1984.  Furthermore, in the early 90's she was instrumental in the development of the physical therapy graduate program at USD, later assuming the Chairperson which she held for 25 years, and also earning a PhD in Medical Science from University of Nebraska College of Medicine in 2002.    Currently she is a Professor Emerita after 30 years at USD.
Give back to our beloved community has been her value.  She currently serves on the United Church of Christ Cabinet.
Lana loves to spend time with her family, which includes 4 beautiful grandchildren, as well as relaxing at her Minnesota lake cabin.  She has a passion for providing physical therapy mission work in less resourced countries, such as Haiti, Guatemala, Palestine and Vietnam.
When asked if she would join the DHF board, she said "Yes!" as her roots are in rural health care, both personally and professionally.