2023 Community Health Service Awarded to Mary Auch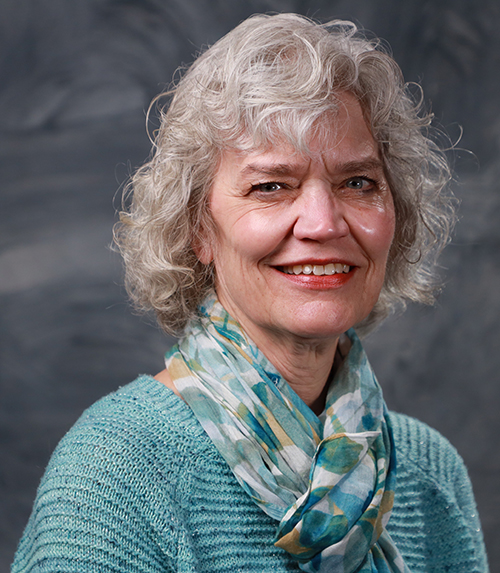 Mary Auch has been the Registered Dietitian at Sanford Vermillion for the past 34 years. She started as a consultant working 1 or 2 days a week when the Care Center was still called "Southeastern South Dakota Nursing Home" and the hospital was "Dakota Hospital." Within 18 months, she became the director of the department, and saw the transition to leadership by Sioux Valley Hospital. Those were hard but good times of helping to develop excellent quality services in Dietary and the rest of the hospital.
One of her craziest memories of those early days was developing all the recipes, writing all of them in pencil on recipe cards. Some of the recipes that were painstakingly written disappeared; it was a mystery where they could have gone. Several years later, when the elevator was being repaired, a worker brought Maintenance a wad of recipes that they found at the bottom of the elevator shaft. Apparently, when some cooks disliked making certain foods, they would throw the recipe down between the cracks in the elevator, thinking no one would ever find out!
Mary remembers well the night of the Open House in 1993 when the new hospital building was opened, joining the hospital to the long-term care facility. It was the evening of the second birthday of her little boy, Matthew. 900 people attended the event, curious to see the BEAUTIFUL teal and mauve decorated facility. Without the assistance of many ladies in the community who made hundreds of hor d'oeuvres, the evening would not have been as much of a success. Although her home is in Centerville, her loyalty to the Vermillion community was sparked from their support.
In the last 30 years, she transitioned to focusing on clinical nutrition and watched all the building and renovation projects take place at Sanford Vermillion. The changes in the building necessitated ten moves of her office for what seemed to be very good reasons each time. She's now come full-circle to one of the original offices she had, located in the service hallway across from the kitchen. Flexibility, a desire to downsize and humor enabled her to survive all the upheaval!
A Special Thank You Message
Mary was born in Indiana but grew up just outside of Chicago. She attended Messiah College in Pennsylvania, majoring in Home Economics. Within two months of graduating, she began a three-year term of voluntary service in rural Bangladesh, teaching nutrition to some of the poorest people in the world who lived at that time in the 1980's. Her love of people from many different nations was born during that time. She met her husband Duane there, and they returned to South Dakota, where she pursued the necessary coursework in dietetics and a master's in nutrition at South Dakota State University.
Mary and Duane were blessed with four children. Jonathan was adopted from Korea as a toddler, and ten weeks later, their miracle baby, Matthew, was born. After nine years of marriage, becoming parents to two children changed everything. Julia was adopted two years later, also from Korea. The family seemed complete, but God had different plans and they had another surprise miracle baby at age 40, her son Peter.
After the sudden death of her youngest son at age 16, and working through all the grief that ensued, the "nest" was suddenly emptied. Working through the grief process led to writing her book, "Glorious Puzzle."
She's used that free time to lead a grief support group for several years and started Global Friends, an organization that assists international students to adjust to life in Vermillion. She plans to spend much more time post-retirement with students. Visiting her two granddaughters in Georgia and her daughter living in Washington state will provide ample time and opportunities for traveling.
As you heard from Mary's bio, she is a dedicated giver. Three words came to mind repeatedly through the nominations and discussions.…wisdom, strength and kindness.
Wisdom. As a dedicated Registered Dietician with Sanford Health Network, helping people make healthy lifestyle choices, Mary has been an inspiration to all who know her. Her knowledge of new studies and current information led many people throughout the community, other healthcare entities, interns, and peers to be the better version of themselves. Mary was surprised to know how many people still have their "Eat Smart" nutrition class folders! Mary's unwavering advocacy, interpersonal skills and commitment to the health and well-being of each individual she worked with established Mary as a leader.
Strength. Mary inspires others to overcome obstacles and show what is possible with dedication, hard work, and determination. After overcoming her own personal struggles and loss, found a path of direction and purpose through trust and faith in God to help and support others through their journeys of grief and loss with her leadership in the GriefShare program.
A testament from a friend… I personally struggled through the devastating loss of my husband, Jack Powell, during an especially difficult COVID-related time, and found tremendous comfort and a healing path to move forward by participating in two 13-week GriefShare classes under Mary's caring, understanding, and loving leadership. She encouraged me, and others in the class, with some guidance.
Here are just a few from the list on the screen:
•There is strength in each other and those around us in life…find ways to reach out to help others, which will help you as well.
• You need to go to hard places of hurt in order to heal…lean into it. The only way through it is through it.
• Be constructive with your pain.
• Traffic jams will clear eventually, and the flow will continue on.
• God knows your plan. Trust in Him to bring it all together….like a glorious puzzle.
• Lean into life's challenges…don't try to avoid, run, or hide from them.
• Be grateful in all things.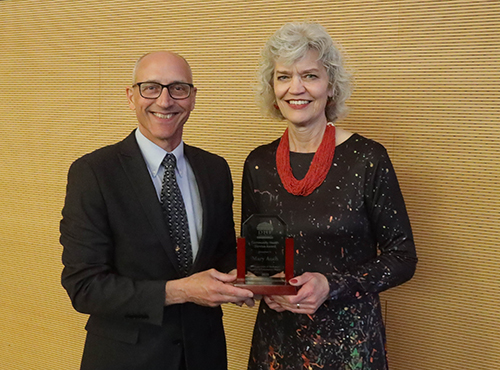 DHF President Andy Howe with Mary Auch
I will forever be grateful to Mary for her help in moving me forward from a most difficult place to a better place in life. Every day I am reminded of her encouraging words and advice. I strive to follow her example as an inspiration and support to others in life. Mary…I think many of us do the same because of your example.
Kindness. Mary befriended a lot of folks through her warm and caring personality, drawing people to her, always willing to lend a helping hand, bringing joy and laughter, guidance and a listening ear. The international students rave in gratitude about your friendship, helping heart, motivation, organization and guiding character, making their home away from home, here in Vermillion, full of lasting memories.
Mary, thank you for bringing wisdom, strength and kindness into all areas of your life for us to receive.