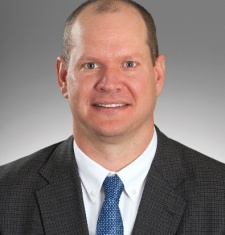 Paul Preister
Secretary/Treasurer
Paul Preister grew up on a family farm near Humphrey, NE and attended school in Madison, NE. He graduated from Mount Marty College, Yankton SD with a bachelor's degree in Business Administration and a minor in Computer Science. He also enjoyed playing basketball for Mount Marty College.
Paul has worked in banking for the past 25 years and is employed with First Dakota National Bank. He is a VP of Ag Banking, for their Vermillion and Elk Point locations.  Paul has worked for First Dakota National Bank for the past 4 years.
Paul has been married to Jessica for 23 years. They have three children: Kaleb, Karson, and Kensley.
Paul enjoys spending time with his family, playing golf and basketball, and being part of Vermillion.   He is also involved with his kid's activities.
I enjoy being part of DHF as the foundation has an effect on many areas of Vermillion.  Mostly on the patients and employees of the hospital, but also health care projects all throughout the community.   I view DHF as a great partner in keeping our health care strong in Vermillion.