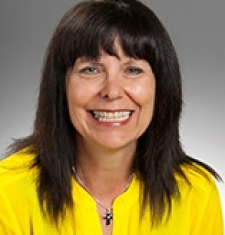 Dr. Mary Jo Olson
Medical Staff Representative
Medical Staff Representative
Dr. Mary Jo Olson grew up in Gary, South Dakota. She attended South Dakota State University and received a bachelor's of science in Biology in 1993. From there Mary Jo attended the University Of South Dakota School Of Medicine and received her medical degree in 1997. She did her residency at Sioux Falls family practice, and after residency returned to Vermillion, SD to start her practice in family medicine. During her time at Sanford Vermillion she has practiced a full range of family medical including obstetrics and newborn care along with adult medicine and geriatric care. As of 2018 Mary Jo has delivered 1,000 babies at Sanford Vermillion.
Mary Jo is a clinical professor at the Sanford school of medicine, additionally she hosts students through the SSOM and FARM programs. She continues to be a leader at the Sanford Health Vermillion clinic and medical center. She received the Dakota Hospital Foundations community health service award in 2011 and the Sanford doctor's award in 2016. She is the President of the United Medical Executive Committee for critical access hospitals in Sanford's southern region, has served on the Physician's executive committee since 2010, and has been a member of the Clinical executive Committee since 2019.
She is currently the medical chief of staff at Vermillion and brings great leadership to the position. She has been married 43 years to her husband Dennis, and together they have two daughters and eight grandchildren. Mary Jo Olson has been involved with the Dakota Hospital Foundation for many years and is currently the Medical Staff Representative for the foundation.